Books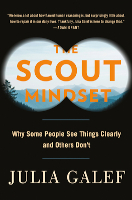 In The Scout Mindset, CFAR co-founder Julia Galef describes why and how to embrace a scout mindset, a stance of curiosity and openness to evidence, in contrast to soldier mindset, a combative approach that resists evidence. It covers topics such as how to notice bias, how to change your mind, and how to inspire others without deception.
Blog Posts by Anna Salamon
Videos by Michael Smith
Newsletter
We used to have a newsletter, but stopped maintaining it. Here are the old editions.